1956 Ford Thunderbird Restomod 1956 Ford Thunderbird Restomod Convertible 1956 Restomod Used Automatic
---
Item condition:

Used

Time left:

26d
Shipping:

FREE

Item location:

Fort Worth,TX,USA

Ships to:

Worldwide
Item specifics
Year:

1956

Make:

Ford

Model:

Thunderbird

Trim:

Restomod

Engine:

302 Supercharged

Mileage:

10615

Exterior Color:

Black

Interior Color:

Black

Transmission:

Automatic

Vehicle Title:

Clear

For Sale By:

Dealer

Manufacturer Interior Color:

Black

Manufacturer Exterior Color:

Black

Number of Doors:

2 Doors

Title:

1956 Ford Thunderbird Restomod Convertible 1956 Restomod Used Automatic

SubTitle:

1956 Ford Thunderbird Restomod Convertible 1956 Restomod Used Automatic

VIN:

P6FH258950

VIN Number:

<font face="Arial" size="2"><b><a target="_JumpPage" href="http://www.autocheck.com?siteID=204&amp;vin=P6FH258950">P6FH258950</a><br><font size="-1" color="#666666">Get the Vehicle History Report</font></b></font>
---

1956 Ford Thunderbird
VIN:

P6FH258950

Stock:

2952-DFW

Mileage:

10,615

Color:

Black

Trans:

4 Speed Automatic

Engine:

302 Supercharged

MPG:

 

Drivetrain:

 
Description
Looking to make a definitive statement behind the wheel of a modified classic? Roll up in this 1956 Ford Thunderbird restomod and watch the envy ensue. It no doubt will - this outstanding specimen has consistently vanquished all comers on the local car show circuit, collecting championship hardware at high profile competitions like World of Wheels, Good Guys and the Street Machine Nationals. And for very good reason - it's a great take on an iconic model, with its one of a kind looks and impressive array of high end components from front to back.

The '50s era T-birds are such an important part of automotive history that, where modification is concerned, a sort of Hippocratic oath applies - "First, Do No Harm." No worries here. With its eye-catching, deep black PPG paint ornamented with gold leaf stripes across its sides, this '56 certainly cuts a distinctive appearance, but it's an instantly recognizable, undeniably appealing one. The legions of enthusiasts who have admired the model for years would approve. From the front, where the hood scoop with its front billet bars sits over a show-stopping grille and modified front bumper, to the back, with its own custom bumper and perfectly positioned exhaust tips underneath, there's just so much to like on display here. The front windshield sports new glass framed by clean chrome and even the weather stripping is in good condition. There's a black cloth convertible top on hand for protection from the elements, with a rear window that's still nice and clear.

You don't often come across a custom interior on a par with this one. The low-backed bucket seats have a shape reminiscent of the originals, but now wear black Ultraleather covers with ostrich skin inserts that really stand out. A custom steering wheel with a billet center and ostrich skin wrapping sits just in front of a dash area that's been tastefully modified - it retains a nice part of its original configuration, but is thoroughly dressed to the nines, and the stock-look instrument cluster is bracketed by a tachometer and analog clock, with a set of vents in position just below to bring the cooling power of the Vintage Air system into the cabin. There will be no shortage of audio options while you're on the road. The custom AutoSound system features an AM/FM/CD stereo to go along with a Kicker amplifier, and a 10 CD changer is positioned in the trunk, so it's like having a personal juke box at your disposal.

The high impact exterior of this vintage Ford would lead you to believe that it was designed only for a display turntable or off the line asphalt pursuits, but it's got a lot more versatility to it. The powerplant under the hood is an absolute gem - a 302 cubic inch GT40 crate engine, armed with SVO heads, a Z303 performance cam, GT40 heads and a ProCharger Supercharger that brings performance to a whole new level. The power on hand is evident right away and the exhaust note emitted out of the Headman headers and into the Flowmaster exhaust has to be experienced to be fully appreciated. There's a custom-built 4-speed automatic transmission sitting just behind the engine and the overall gearing strikes a great balance - this T-Bird can melt rubber on command, but it's also surprisingly well-behaved in everyday conditions. Sway bars have been added in front and back to minimize body roll during hard cornering and with its 2" dropped spindles, the stance on this modded classic is just killer as it rules the boulevard on its Coy wheels that have been outfitted with billet centers and feature Hankook tires.

A dramatic, yet tastefully modded exterior, outstanding interior and array of top of the line components make this 1956 Ford Thunderbird restomod a very rare find. Call today!


Options and Standard Features
Basic Information
Stock Number: 2952-DFW
VIN Number: P6FH258950
Make: Ford
Model: Thunderbird
Model Year: 1956
Vehicle Trim: Restomod
Interior Color: Black
Exterior Color: Black
Body Type: Convertible
Engine
Engine Description: 302 Supercharged
Fuel Type: Unknown
DriveTrain
Transmission: 4 Speed Automatic
Contact
Streetside Classics Dallas Fort Worth
5400 Sandshell Dr Suite 100
Fort Worth Texas 76137
Ask for:

Sales-DFW

Contact:

Contact Us

Main:

(855) 877-2707
Consignment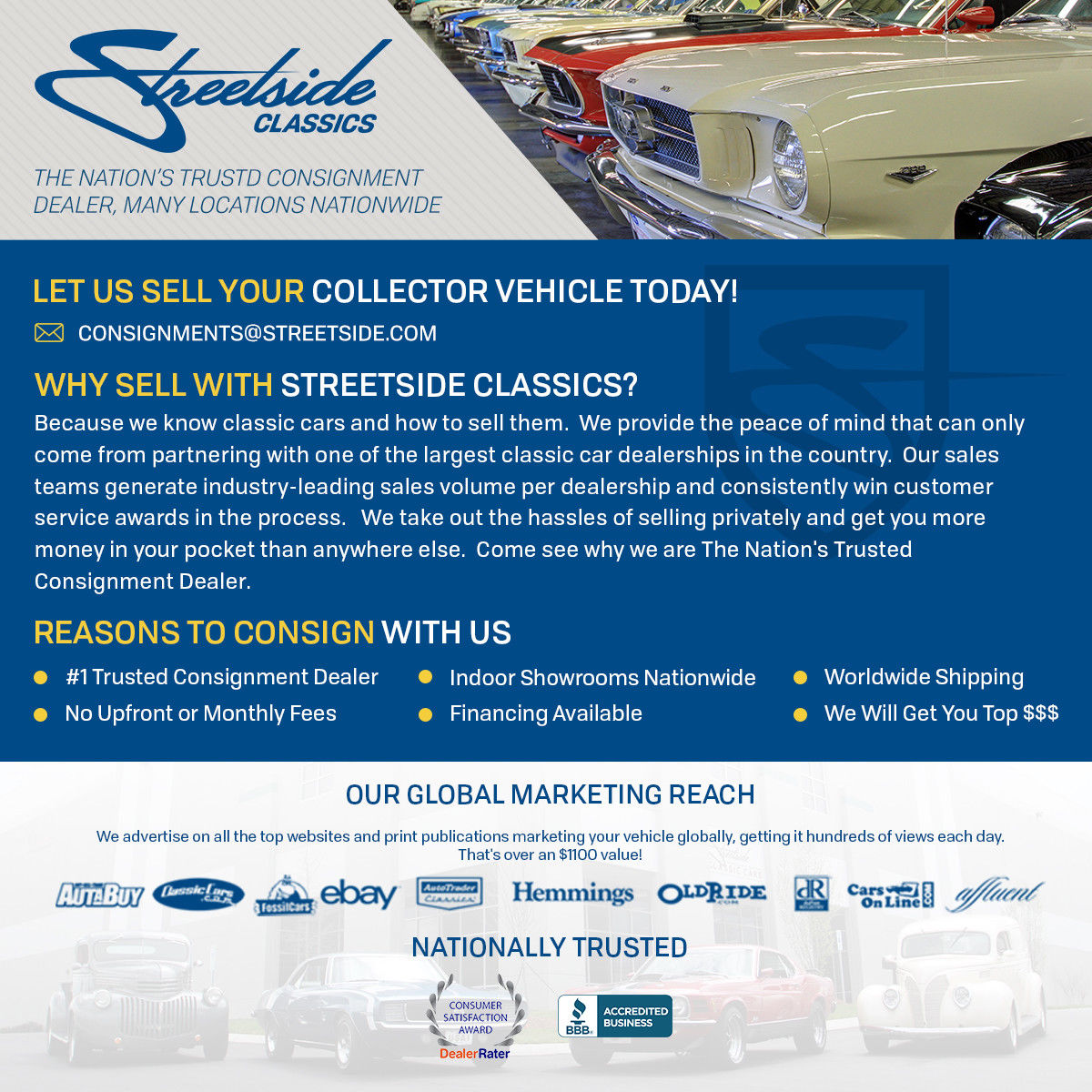 Similar Vehicles
Check out similar vehicles in our inventory.
View Inventory
About DFW








Our Fort Worth showroom is located just minutes north of downtown Fort Worth and 10 Miles south of the Texas Motor Speedway on I-35W. We're on Sandshell Drive in the Space Center business park right next to the Coca Cola bottling plant. At over 55,000 square feet, our breath-taking facility was opened in 2012 and houses approximately 300 vehicles, including everything from antiques and streetrods to muscle cars, trucks and the latest exotics. Come check out the historic Fort Worth stockyards and then visit our showroom to see some truly awesome vehicles! We are open to the public and showroom admission is always complimentary.
Our Global Marketing Reach
We advertise on all the top websites and print publications marketing your vehicle globally, getting it hundreds of views each day.
That's over an $1100 value!
Nationally Trusted
Finance
Financing Classic & Collector Cars
Let our money work for you! With rates as low as 6.00% and an average appreciation of 9.00% a year it doesn't always make sense to pay with cash.
Minimum Loan Amount - $5,000
No Pre-Payment Penalty
No Proof of Income (Tier 1 Credit)
Terms to 144 months
Bankruptcy, foreclosure, divorce ?All OK
Apply Now
About Us
After being in the collector-car business for a decade prior, Donna Robbins opened the doors to the first Streetside Classics showroom in Charlotte, NC in 2008. Armed with a customer-oriented business philosophy and a clear vision for success, she has since led Streetside Classics to an unrivaled sales volume that is currently among the best in the collector car industry.
With the most knowledgeable and professionally trained staff in the industry, we have expanded nationally and opened showrooms in many major U.S. markets. We operate under the principles of doing business fairly and with the understanding that our customers are the lifeblood of the business. Much of our success comes from the relationships formed with buyers and sellers around the world who have joined us on this incredible journey and made Streetside's rapid growth possible.
Today, Streetside Classics is known as the Nation's Trusted Consignment Dealer; providing sellers and buyers alike with the peace of mind that only comes from partnering with one of the largest classic car dealerships in the country.
eBay Terms
Terms & Conditions
We recognize the need for complete transparency when buying/selling vehicles on eBay.That said, we did not build, modify, or have the luxury of personal ownership that would give us the advantage of knowing all unknown aspects of each vehicle.Transparency is king and we're happy to try and answer ALL questions our customers might have prior to purchasing. Additionally, we welcome and encourage independent inspections (see Inspection statement below).
Fees:A documentation fee of $199 will be added to the purchase price at the time of sale.Sale price does not include any Title, License, Registration, State or Local Taxes or Processing Fees. We recommend you familiarize yourself with your individual state's taxes, transfer, or additional fees.
Availability: Please inquire prior to purchase to assure any advertised vehicle is not already sold. We advertise across multiple platforms where a vehicle can sell in a moment's notice. Vehicles may be sold prior to eBay listing end, and we reserve the right to end listings early or to cancel bids/offers solely at our discretion and shall not be held liable for any such cancellation.
Contact: Note that you may hear from us after to the sale, but if you are a winning bidder, click a Buy-It-Now, or we accept your eBay Offer, it is your responsibility to contact us within 24 hours.
Inspection: VERY IMPORTANT.If a buyer chooses to buy sight unseen (many of our buyers choose this option) the buyer accepts the vehicle AS-IS and understands we cannot address concerns post sale. For this reason, it's important all concerns are addressed prior to purchase.We make every effort to present accurate and reliable information, but use of this information is voluntary, and should only be deemed reliable after an independent review of its accuracy, completeness, and timeliness. It is the sole responsibility of the customer/buyer to verify the existence of options, accessories and the vehicle condition before time of sale.
Payment: We require a non-refundable $500 deposit within 48 hours of winning or commitment to purchase. Full payment is required within 7 days of offer acceptance unless other arrangements are agreed to in writing. If deposit and/or full payment are not provided within said timeframe, all vehicles will be relisted and transaction will be considered void.For balance of payment we will accept bank wire transfer (preferred), cashier's check, or personal check (vehicle shipment will be delayed until check clears).We also offer vehicle financing, please inquire for details prior to making bids/offers.
Shipping: We have access to a network of private and commercial carriers. Most of them can deliver the vehicle to your driveway and upon your schedule. We assume no responsibility for damages or delays incurred once a vehicle is in a shipper's custody. Buyers are welcomed to trailer vehicles home and we are happy to have everything ready to see you off with your new vehicle.
Drive it Home: If you plan to buy and drive home, please keep some things in mind. Anything is possible when it comes to a vehicle, especially a classic or antique one. We recommend transporting all vehicles to your home first, then driving it locally. Get to know the vehicle and its tendencies before embarking on a long-distance trip. If you choose to drive your new vehicle home, buyer accepts all responsibility as we are unable to control what may take place once it leaves our facility.
Documents & Vehicle Titles: All purchase documents are sent immediately upon purchase. To avoid delays, we recommend returning any required documents within 24 hours of receipt.Please allow up to 30 days for vehicle titles. Usually titles are available sooner, we ask for the extra time in the event there are unforeseen circumstances.
VIN Verification:We photograph the primary VIN location of every vehicle and make sure that VIN exactly matches the vehicle's current title.Buyer agrees to hold seller harmless from any disputes arising from other hidden or secondary VINs present on the vehicle as seller only verifies the primary VIN location.If needed, it is the buyer's sole responsibility to verify secondary VIN locations their specific state may inspect, prior to purchase.
Mileage: Occasionally our vehicles may be driven or simply moved around our facilities. Slight differences may occur so we recommend you confirm actual and current miles prior to purchase.
Condition:We cover the obvious and do our best to describe our vehicles in detail. Even so, please have a transparent conversation with us before purchasing. Do be aware that all pre-owned vehicles, regardless of age, mileage, or manufacturer are subject to cosmetic wear and mechanical failure. Finally, be advised that although our sales associates are here to assist you with your purchase, they are not trained or certified vehicle inspectors.
AS-IS: All vehicles are sold "AS IS" and with no warranties expressed or implied. If you choose to waive inspection, do plan to have a detailed and transparent conversation with us regarding the vehicle's condition. Ask the hard questions up front. Please just call us, we are here to help and welcome all your questions!
DISCLAIMER: This site and all advertising information may be updated without notice whenever new information is obtained and may contain mistakes and inaccuracies. Information is provided to the best of our knowledge and we make no warranty or representation regarding the accuracy, truth, or reliability of such information. We cannot be responsible for any errors, omissions, or inaccuracies contained in information provided by the consignor/seller of the vehicle. We strive to perform extensive visual inspections on all vehicles we represent but we do not disassemble vehicles or components for inspection purposes and therefore it is always possible that there is hidden damage that is not readily apparent.All vehicles are sold AS-IS with no warranties expressed or implied.
---
See what other people are watching